CONTINIOUS BLANCHING SYSTEM. (From 500 Kgs./Hr to 1500 Kgs./Hr.)
With leading demand of high quality & huge quantities of packed/processed food articles like fruits & vegetables etc., Industries have implemented a successful process of Blanching. Blanching is used to destroy enzymatic activity in vegetable and some fruits prior to other processing like freezing or dehydration or canning or any other processing. It is a pre-treatment based on shock treatment achieved by mild but controlled indirect heat for a specific time followed by rapid cooling or transferring the treated materials immediately to the next processing stage.

Each product has its specific process (type of fruits/vegetables, size, type of cut) requirements of the time and temperature combination. Some fruits and vegetables have natural tendencies which are responsible for discoloration by blanching this issue can be technically handled. Industrial Fabricators cater a wide range of Blanching system with options for continuous or batch type systems which operates on various heating media.
BATCH TYPE BLANCHING SYSTEM. (From 100 Kgs./batch to 250 Kgs./batch)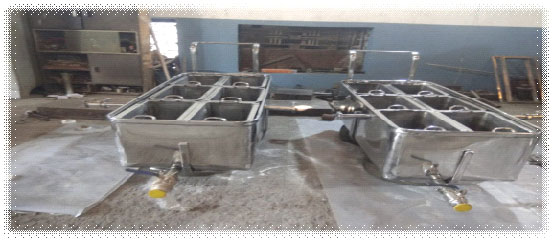 Applications:
Blanching treatment provided in either batch type or continuous process. Can be connected with large scale online process houses or can be used for individual
Features:
Fabricated out of S.S. 304 sheets as per food grade requirements.
Complete process adjustments like, speed, temperature, time etc.
Can be operated with multiple heating media, like steam, electric, thermic fluid, gas etc.
Withcomplete process and system safety requirements.
Can be connected with various further processes like cooling, dehydration, packing etc. processes.
Option for air bubble treatment for optimum results.